I started an experiment on Facebook over the past few days where I solicit ideas, and let my friends and families have some fun with their imagination. In this session I asked:
I got back so many great ideas the last time I posted about my book, I decided to try it again. Imagine if a deep space research vessel was part owned by the pension fund of this world's "International Siblinghood of Magic Users." So, they management has to set aside a good number of houses in the little town on board for retirees.
What kind of crazy people would live there?
Some background: the ship is huge (75 million metric tons) and has its own farms and factories on board. So they actually have several large bays in which they construct complete villiages. Town square, parks, local bar, everything. And it's only kept at 2/3 of gravity, which makes it heaven for people with knee and back problems.
The feedback was spectactular. My friend Clif, a fellow programmer started a thread:
Clif F
Well, lots of practicing magicians.
A drug store with homeopathic potions that include functional ingredients so you get a "Magical" cure.
Eternal Razor blades that you only need to change once a week.
Cars that never need gasoline - just add purified vodka (95%)
Mattresses that let you sleep on air. (And deflate overnight.)
Vanishing cream (for wrinkles)
Card decks with two fronts to make it easier to guess a card.
Sekret Decoder Rings.
(Me)
I am having this vision that a kid who grew up on board dreaded birthdays. Because all of the old conjurers would fight over who was going to perform at his party. And in one unmitigated disaster of an idea, for his 12th they decided to let them ALL perform.
My sister, Janet, started a great thread:
Sister Janet
So the mad old lady with 75 cats... at 2/3rds gravity, does that make the cats more floaty or maybe more ornery because when they jump between her 15 coffee tables per room they continually knock over the accompanying table lamp?
Mom
Janet i love this idea. In 2/3 gravity, the cats have an astonishing leap range. Left unsupervised, no object left on a table is safe. They have an unfortunate habit of hopping a ride on the heads and shoulders of unsuspecting visitors, using their claws to hold on.
Me
So will it be written.
A friend of mine from high school asked some really good questions about the medical implications:
Bob B
2/3 gravity..... So less bone density? Do they need supplements? Do they have to stick to an exercise regime or has evolution compensated? If so, what else has evolved?
Me
Bob: Great questions that I also need to resolve. The key thing is that there are parts of the ship that have 1G. But because it is rotating, they can't do that for the entire ship. (At least without leaving the entire inside hollow). So they reserve the 1G parts for the stuff you really need 1G for. Sports. Certain agriculture crops. Etc. Where everyone lives just needs some gravity to hold everything to the floor. And allow toilets to flush, etc. The difference in health outcomes between 1G and 2/3G are a lot less than the real medical problems that come with living in near-zero G.
Bob B
Sean "Really need - sports"...... Would be more fun in less gravity. Training in higher gravity then playing in less gravity. Like oxygen training - athletes train at higher altitudes to increase vo2
Me
The major theme of the book is that the people (and their sanity/comfort) is the most important "system" on the ship. Ships have sports leagues, and clubs, and mandatory time when people are off the clock and are really encouraged to hang out with one another.
Me
Over my cup of ramen for lunch it occurred to me that many of these elderly folks would be stuck living in 2/3 G if they don't regularly exercise in 1G (for health/their back doesn't work reasons). This could be a plot point if, say, the Spacey (Space Navy) was looking to commandeer the ship and move all of the residents off onto standard housing.
My Sister Claire, always with an eye for characters, started this thread:
Sister Claire
Real characterization: sweet old lady who talks in loops, has the same conversation over and over again. Her family has bingo cards for her phrases. She crochets amorphous scarves, blankets and doilies because she forgets what she started and her tension ebbs and flows with her attention. She sips Chardonnay most of the day, but the staff water it down. She only gets ornery when she doesn't get her wine. Oh, and she has a pirate eye patch because she's missing an eye.
Me
Taking notes...
Mom
Claire you should have more respect for your mother.
Mom, I have all the respect in the world for Nick's Babcia - I just think she's a fascinating character.
Me
Oh, I was going to make the joke that she actually sees better with the eye patch. Because... magic.
My Sister Janet had more ideas:
Sister Janet
I feel like you need a guy that does historical reenactments, but of popular 90s sitcoms and badly rated movies. He ropes his neighbors into participating only because if they don't participate, their property becomes part of the reenactment regardless
Sister Claire
Janet, you are a genius
Sister Janet
Claire, Hahahaha this is way more fun than working or reading arguments over politics!
And this let to yet another great thread started by Claire:
Sister Claire
Ooo we need the woman still trapped in an MLM in her 80s. Still trying to sell Avon makeup, Tupperware and LuLaRu leggings to disastrous effect (shudders about the leggings) but people show up to her pop up parties for the snacks she brings, which are still quite good.
Sister Janet
Claire Drolet talk about genius idea!
She needs to start selling all these weightloss powders and supplements she has so she can get into the scented candle business but at 2/3 gravity she can't get anyone to buy the inventory she's stuck with taking up space in the garage.
Oh!! And then something could spill in the garage and mix with the protein powder and it all morphs into a sentient being living in her garage (call him George) that she has tried to get to sign up multiple times as a new consultant so she can get a recruitment bonus 🤣 George the sentient being is plotting her death and trying to move out
Claire
Me
I do have a scene later in the book where the ship has to barter for some fuel or a high tech MacGuffin with a set of savages on the edge of space. It would be HILARIOUS if something in her inventory of useless crap is something sacred to them. "NO FUCK YOUR SELF-SEALING STEMBOLTS. WE WANT EVERY LAVENDAR CANDLE YOU HAVE. AND YOU CAN EITHER TRADE US FOR THIS USELESS DIRT (that happens to be enriched with an isotope the need) OR WE'LL COME OVER AND PRY THEM FROM YOUR SHIP WITH OUR BEAR HANDS"
Janet
Sean in your mentions you can just say "thank you to my bored insane sisters"
Claire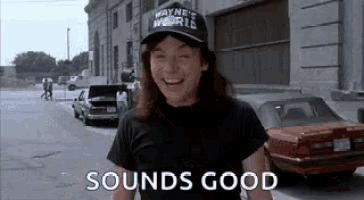 Me
On second thought... what if it is a tribe of people founded by an MLM. And they accept her as a holy woman, because, after all, just look at her Cargo!
Me
Ok, and BEAR HANDS has to be one of the stupid things she shills. A tool that basically consists of wearing a glove with metal rending claws. And they could have "Logan the Immortal". Who, after ingesting not quite enough to kill him amounts of every quack medicine, has developed a hyper-active healing factor. And severe heavy metal poisoning.
Janet
Janet
But only *some* mlms are considered gospel. Nail polish strip mlms is no basis for a system of government
Mom
Janet An AMWAY dealer? Some small actual detail from the period... Mary Kay dealers were given pink cars to drive.
Claire
Mom Arbonne ladies get white Mercedes I think.